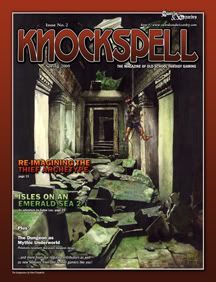 ==================================================
I did the art direction on this and you won't believe the bullpen of artists I got!
==================================================
The Swords & Wizardry Storefront:
http://stores.lulu.com/mythmere
Knockspell Magazine Issue #2 is now on sale at the Swords & Wizardry storefront,
http://stores.lulu.com/mythmere.
This issue contains dungeon design advice from both Allan Grohe and Philotomy Jurament, an adventure by Gabor Lux, and all kinds of other articles from jousting to monsters and all points in between! The art in this issue is phenomenal: artists include Jim Holloway, Liz Danforth, and others. The cover piece is "Dungeoneer," by Peter Fitzpatrick. Games covered include 0e, 1e, Swords & Wizardry, OSRIC, and other retro-clones. 86 pages.
DURING MAY the prices of Knockspell #2, Spire of Iron and Crystal (module), The S&W/0e Monster Book, and Eldritch Weirdness Compilation Books Three to One are all reduced, because we're in the middle of another lulu sales competition.
Table of Contents:
3 Editor's Note, Matt Finch
4 Art Director's Note, Jeff Preston
4 From Kuroth's Quill, Allan T. Grohe, Jr.
8 The Dungeon as Mythic Underworld, Jason "Philotomy Jurament" Cone
14 The Trouble with Thieves, James Maliszewski
16 WhiteBox Thief (1): The Treasure Seeker, Rob Ragas
17 WhiteBox Thief (2): The "Standard" Thief, Salvatore Macri
18 Core Rules Thief (1): The Skillful Shadow, Salvatore Macri
20 Core Rules Thief (2), James Maliszewski
21 Thieves and Tasks, Akrasia
24 Isles on an Emerald Sea 2, Gabor Lux
31 Retro-Clones: Interviews with the Authors
36 Jousting (Optional Rules), Brendan Falconer
37 Dungeon Oddities, Michael Curtis
45 The Zocchi Experience, Matt Finch
46 The Claws of Ssur-Sparih, James Carl Boney
47 Random City Lair Generator, Sean Wills
48 Random Thieves Guild Generator, Robert Lionheart
51 The Fantasy Marketplace: Looking at Merchants Differently, Michael Shorten
55 Spell Complexity (Optional Rules), Brendan Falconer
57 Thoughts on Arnesonian Alchemy in the Original Dungeon Game, Jason Vasche
60 When is a Spell Book Much More than a Spell Book?, Brendan Falconer
62 Random Pits & Occupants, Mike Davison
63 Magic Swords & Treasure Maps, Jason "Philotomy Jurament" Cone
67 Leprechauns, David ("Sham") Bowman
69 Why White Box?, Jim Adams
71 Surviving Old-School Dungeons, Sean Ahmed
72 Three Sorcerous Creations, James Carl Boney
77 Magic Items
78 Review: On the Road of Knives, Matt Finch
79 Masterminds & Minions, bat
82 The Bestiary
86 Classified Ads